What is RACI? And How to Use It

Cassie Solomon -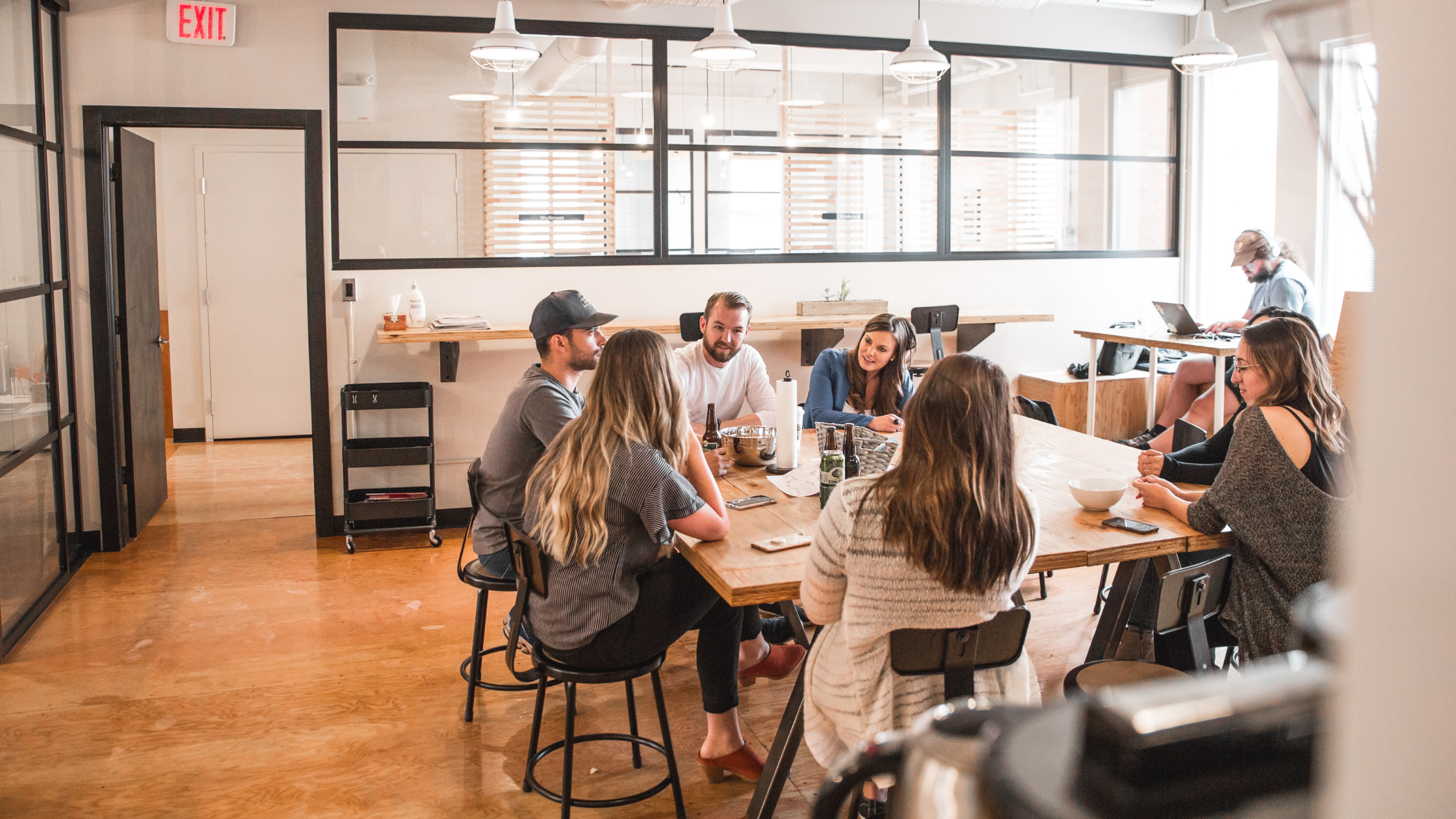 Used in the right way, the RACI model can create clear roles and responsibilities, and even though RACI has been around for many years, RACI 2.0 supports working at today's accelerated pace and need for fast execution. With DecideAct software, the use of RACI can now even be digitized.
What is RACI?
RACI (pronounced "ray-see") is a widely used tool that clarifies individual or group roles for each task in a project or process. It also creates a language to align roles and responsibilities within an organization or in a project. RACI has existed since the 1950s and it is the only project management tool that deals with people and roles.
RACI is an acronym used by millions of organizations all over the world to define roles when managing projects. In RACI 2.0, updated for today's business, the traditional RACI codes are defined this way:
| | |
| --- | --- |
| Building Block Code | Definition |
| Responsible "R" | The individual(s) who will actually complete the task, or create the deliverable. This responsibility can be shared, in which case a person can become the primary responsible, called the R1 person (thereby adding a 5th role to RACI) |
| R-Prime or R1 | If more than one person is working on a task, designate one individual as the R-Prime role. This individual orchestrates the work of several "R" roles and keeps their deliverable on track. |
| Authorize & Approve "A" | The individual who is making the decisions. Includes yes or no authority and veto power. |
| Consult "C" | The individual(s) or groups to be consulted prior to a final decision or action. They contribute with expertise. |
| Inform "I" | The individual(s) or groups who need to be informed after a decision or action is taken. |
The RACI model is used by organizations of all kinds, from Instagram to Amazon and from Microsoft to PepsiCo. The larger and more complex an organization becomes, the greater the need for RACI - and clarifying people roles. However, many start-ups and fast-growing companies are adopting RACI to continue to move fast while building organizational structure.
RACI 2.0 helps companies and projects to avoid role confusion and misunderstandings. For a complete explanation of RACI and how to work with RACI in practice, please see our RACI 2.0 partner's site - RACI Solutions.
What Can RACI 2.0 Be Used For?
RACI 2.0 is a flexible tool that helps you define how people, teams, functions, departments, and cross-functional teams should interact. When working with projects or initiatives, RACI allows you to:
Plan key activities in chronological order
Define accountability for deliverables by designating R and R-Prime roles
Define critical stakeholders who need to have input by designating C ("Consult") roles
Clarify each decision in the process by negotiating A ("Authorize or Approve") roles
The RACI 2.0 clarifies the work responsibilities and decision-making authority for your project plan which is crucial to ensuring success.
What are the steps for RACI?
The following steps are recommended:
Step 1

: Choose an activity or decision.
The first step is determining the decision or activity you want to "chart." An example can be the task of developing a solution for reducing energy waste.
Step 2:

Determine the activities or steps involved.

To create a RACI chart, it is important to define the steps involved in the activity, or the steps of the decision process. In our example about developing a solution for reducing energy waste, the key tasks may be:
Allocate resources to reducing energy waste
Put together a cross-functional team
Design a technical solution for reducing energy waste
Get solution approved
Communicate benefits to investors and other stakeholders
Implement technical solution for reducing energy waste
These key tasks can be unfolded and broken down even further to make the project more tangible and easier to execute.
Step 3:

Determine who will be involved (stakeholders)

In any project it is important to do a stakeholder analysis and ask questions like: Who needs to be involved? Who thinks they should be involved? Who am I forgetting? In our example, the key players could be, e.g., the COO, an Engineer, a Team Lead, and a Communication Consultant.
Step 4:

Decide if you want to chart the "as is" or the "will be"

In an organization, projects or initiatives are often carried out in a certain way, which can be beneficial to the desired impact or sometimes counterproductive. Therefore, this step offers the opportunity to discuss with the stakeholders if things should get done as they typically do, or if now is the time to do it differently. Having this kind of talk is also very valuable for creating alignment, both within a project team and with other stakeholders.
Step 5:

Fill in the RACI chart with roles of participation codes

This step can be done either by one person alone or in a group. If you fill in the RACI chart by yourself, it allows you to define how you see the roles working, and then that can be a starting point for a dialogue with stakeholders. In our example, the RACI chart can be filled out like this: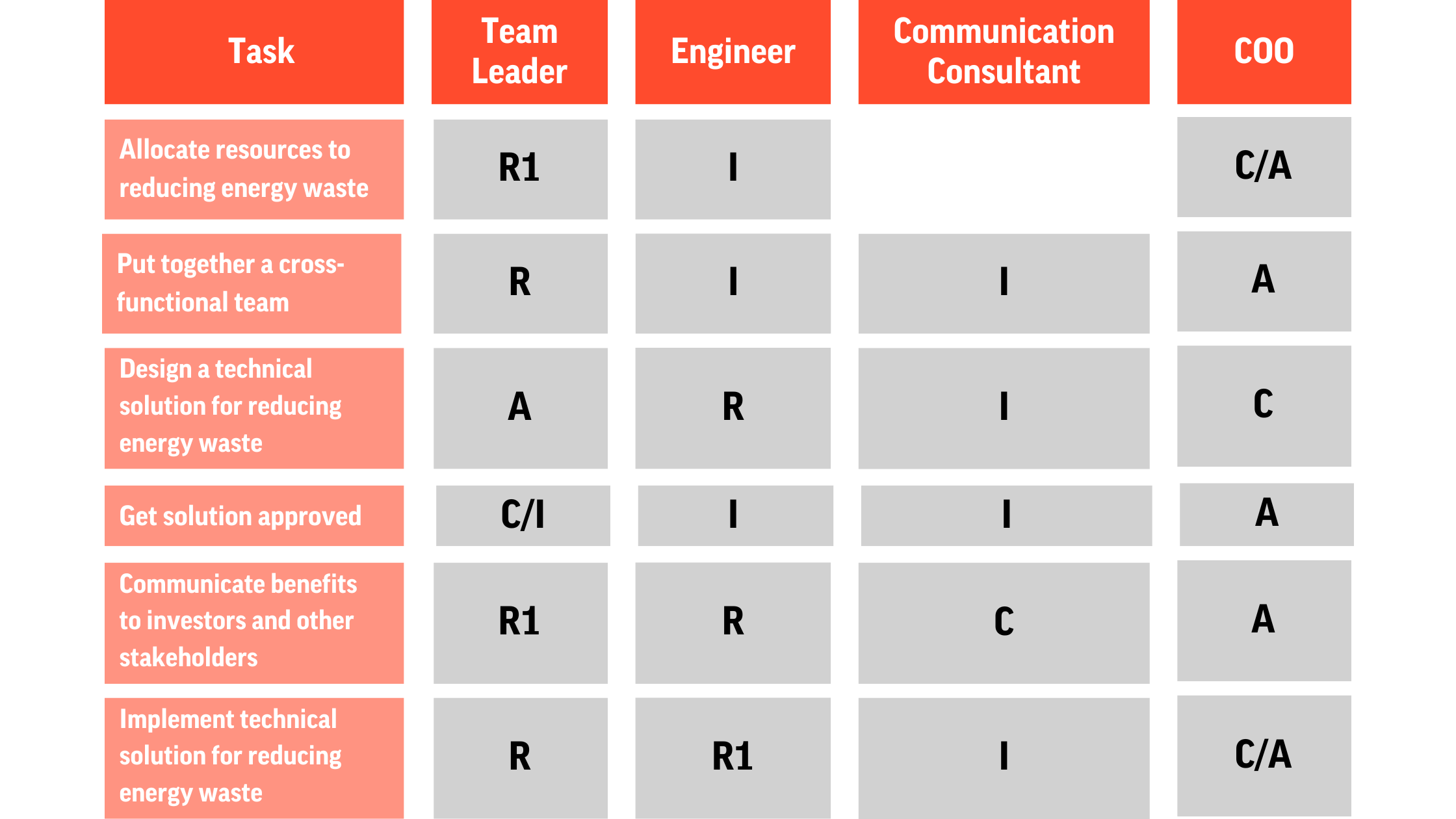 RACI definitions:
Responsible "R"
Primary Responsible "R1" (when more than one "R")
Authorize "A"
Consult "C"
Inform "I"
The example above specifies the tasks and the roles in the strategic initiative, as the participants are assigned to one the four roles: Responsible (R), Authorize or Accountable (A), Consult (C), and Inform (I). R1 is relevant when there is more than one R.
Roles Can Be Combined
There is often a need for embracing more than one role at a time. As an example, a person can have the Authorize ("A") and the Responsible ("R") roles for a task if that person does the work and decides the direction. It is also possible to combine the Authorize ("A") and the Consult ("C") roles if a subordinate needs the opinions of his/her superior, before bringing a recommendation back to approval by the superior.
In a very empowered organization, it can also happen that the superior keeps the Consult ("C") role and the Inform ("I") role when delegating a task to someone, but then gives both the Responsible ("R") and the Authorize ("A") roles to the subordinate.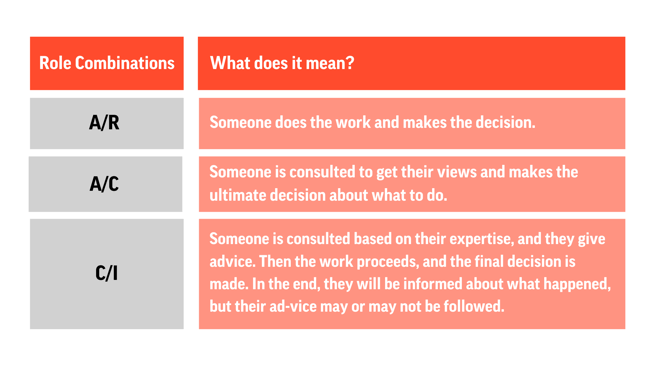 The Benefits of RACI 2.0
Using RACI 2.0 in the right way offers an organization some extraordinary benefits:
Clarifies roles and helps avoid confusion – for example in cross-functional teams.
Initiatives stay on track – because everyone knows who is doing what.
Helps keep momentum – because people enjoy seeing things are getting done.
Enhances good communication – both within the team and with stakeholders.
Supports fast decision-making – since there is no doubt who is taking the decisions.
Finally, RACI Can Be Digitized
Until now, RACI charts have been documented in Excel or tools that are not integrated with the organizational structure and with limited workflow and automation opportunities. Now it is finally possible to enable RACI 2.0 features in the DecideAct software that allows you to look at project tasks in terms of people's roles, thereby answering questions like:
Who is delivering work?
Who is making decisions?
Who is contributing with their expertise?
It is also possible to use the software to pivot to see a view of each individual role in the execution of your strategy. People clearly know what they are accountable for to produce, and you can easily see who is accountable for which part of the strategy.
Strategy execution is complex, involving many different individuals, teams, functions, and stakeholders. Applying RACI 2.0 to managing all these people is best practice but doing it in a normal spreadsheet or pasting it onto a project management tool can be cumbersome and very time-consuming. To maximize speed, agility, and quality in strategy execution, we recommend using the digital platform DecideAct that has RACI 2.0 functionalities built into the management of strategic projects or initiatives. For more insights on what is RACI and how you can apply it to your organization, talk to one of our experts!