What Is An Ansoff Matrix And How Can Bring Business Success?

DecideAct -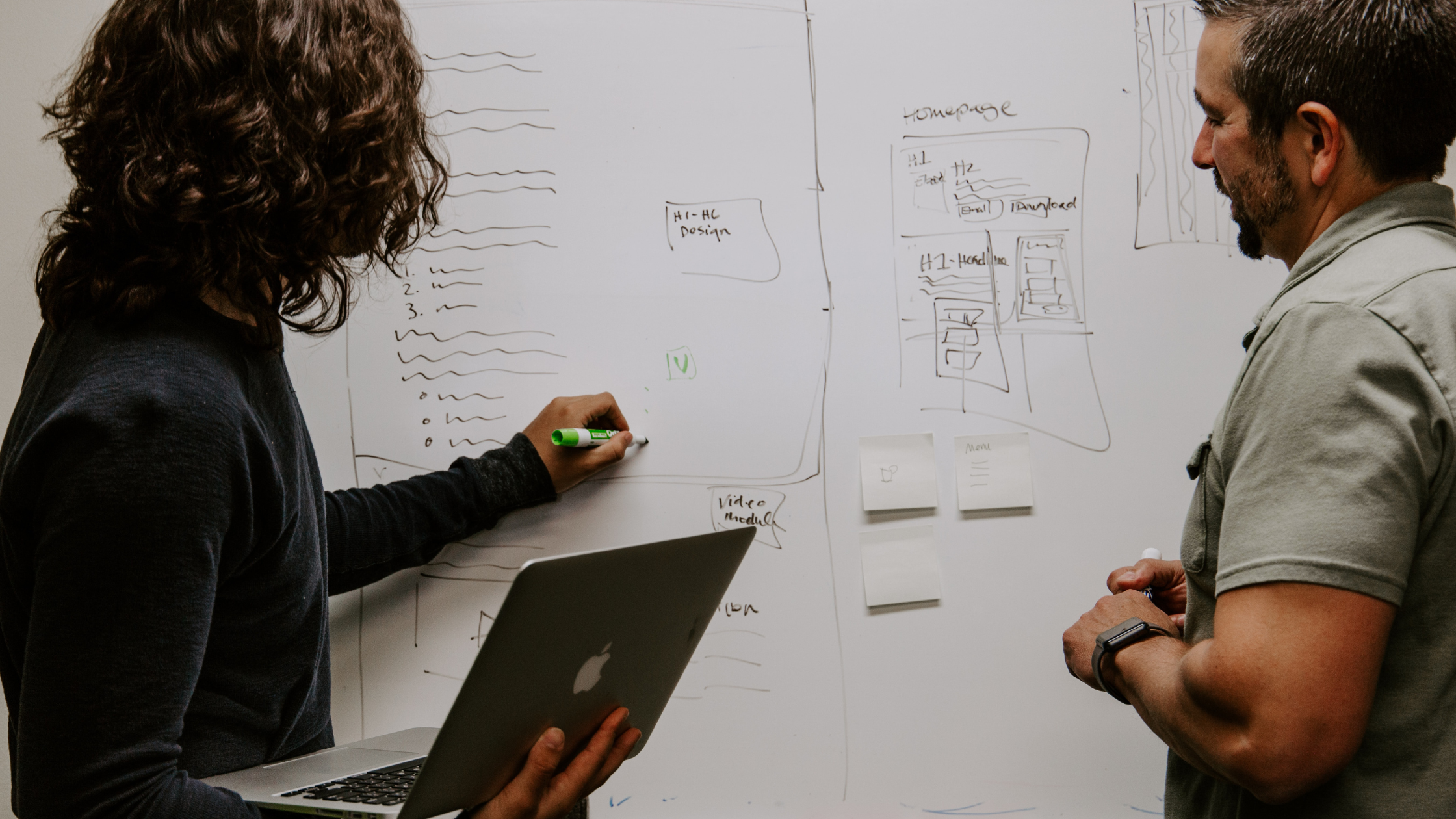 Growth is the ultimate marker of business success and the aim of most companies, and growth means expansion and a sustainable strategy. An Ansoff Matrix helps pinpoint areas of growth, assess risk and outline and understand their growth strategy.
This article will define what an Ansoff Matrix is (sometimes known as the Ansoff Model or Product Market Matrix) and show you how you can apply and adopt the Ansoff Matrix by using examples.
What is an Ansoff Matrix?
It is a valuable and versatile tool that enables management and marketers within a company to devise growth strategies and assess levels of risk connected to those strategies. Created by Igor Ansoff in 1960, the matrix has stood the test of time and countless changing trends and is a method that allows a company to evaluate opportunities for increased sales and growth by looking at alternative combinations in different markets.

By pinpointing all areas of growth the matrix outlines the following: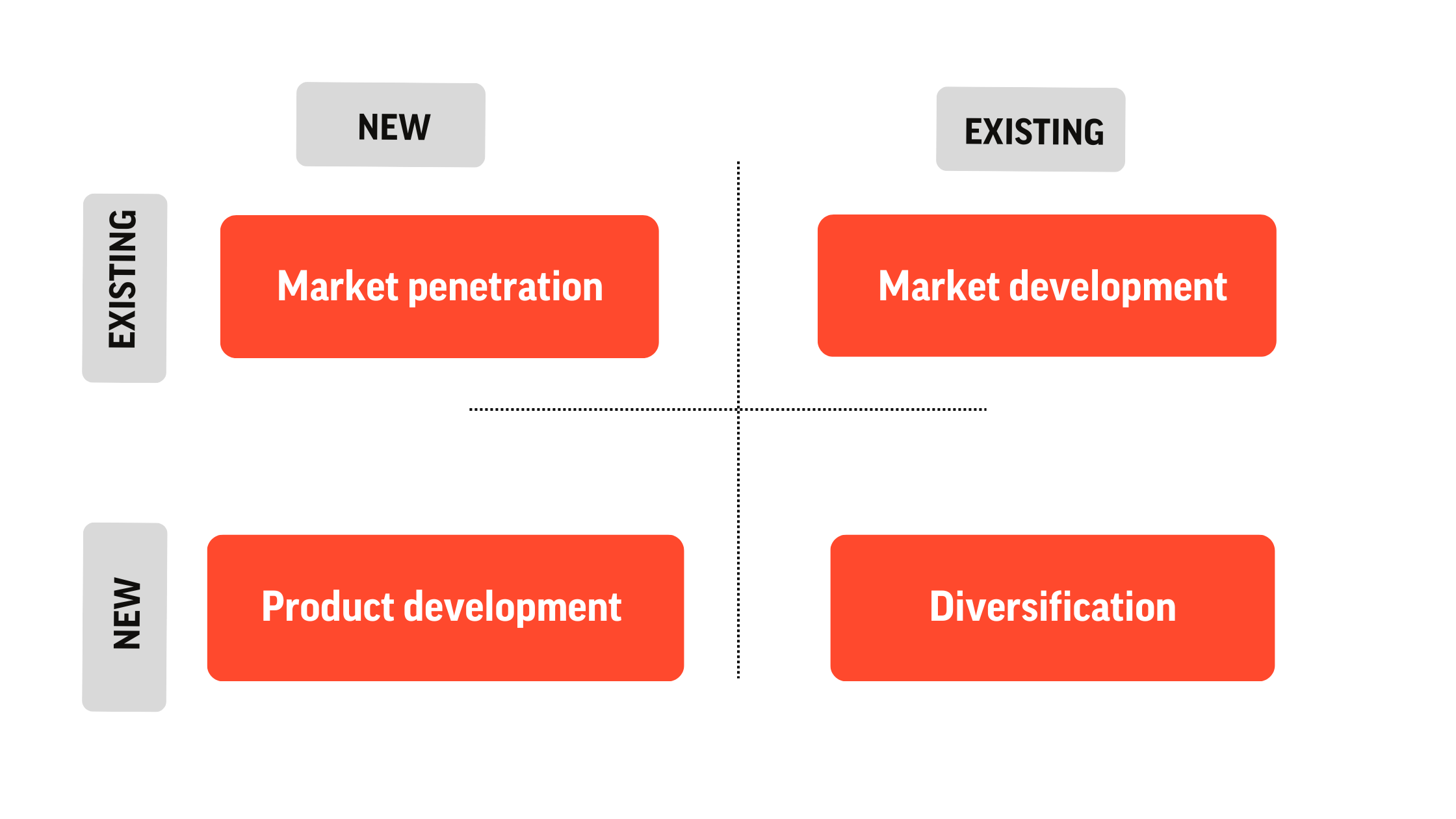 These areas cover growth possibilities and alternatives that a company can focus on to move and expand into new markets and/or to grow its service or product range. Crucially the matrix allows for fully considered risk assessment as part of the growth strategy. All expansion comes with a element of risk, therefore a system such as the Ansoff Matrix can be an invaluable aid in mitigating against that risk.
Four Growth Strategies in the Ansoff Matrix
1. Market penetration
This is the first element in the matrix quadrant and is perhaps the most simple and low risk section of the matrix. This is where a business seeks to expand in a market in which it already operates with products/services that it already provides. The challenge here is to find new customers/clients within your sector or to sell more products/services to an existing customer base.

A company is, understandably, usually comfortable in taking on a market they already know well and they might often adopt a dynamic marketing approach. Ways of achieving successful market penetration might be:

- Ramping up promotional activities
- Keener pricing by lowering price points
- Initiating sales promotions and incentives
- Possible improvements to products/services
- Improving processes such as sales fulfillment and distribution
- Acquiring a competitive business in the same field

2. Market Development
This second quadrant covers the possibility of a business using its current skills, assets, products and market position to move and expand into other markets. Geographically this might mean anything from into a neighbouring town, to further away nationally to overseas. This aim is a true market development growth strategy.

This comes with more risk than the Market Penetration element but, if carried out without negative impact on product manufacture, service supply, finances and distribution, then this has a tremendous potential for success and reward.

Activities within Market Development might be:

- Appealing to markets further afield, whether this is nationally or internationally
- Expand customer base
- Create different segments of customer base, so this could be B2C as well as B2B

3. Product Development

This segment of the Ansoff Matrix is, as the name suggests, when a company brings on new products for the market in which it is established. This means delivering an expanded product line to an existing market and customer base, potentially attracting new customers.

A product development plan can include such aspects as:
- Find money within your budget to research and develop products that the market might need but is not being fully serviced with.
- Collaborate with another company, buy rights, produce and sell their product
- Enter into partnership with another company to sell their products into your territories.

4. Diversification

The last pillar of the Ansoff Matrix is generally the most risky for businesses. This is all about moving away from what you know where you are and entering new markets with new products or services.

Diversification breaks down into two parts:

Related Diversification. This is when, although moving into new territory in terms of market and product, there is still some relationship with what the company has been doing. This means it is not an entirely alien enterprise and there will be crossovers from where the company has already been working and is established.

Unrelated Diversification. This is the opposite of the above. A company moving into an entirely new field outside of what it has been doing before and the market in which it operates.
Learn more about the best-performing organizations
Make Your Own Ansoff Matrix
1. Create a table divided into four sections. This is the quadrant that provides the framework for your Ansoff Matrix. There is plenty of flexibility here, you can use design tools or computer programs such as PowerPoint, but you can also gol old school with pens and paper or a whiteboard and coloured markers!

2. You will have an X and Y axis. X is you horizontal line and Y the vertical. X will be your 'markets' and Y will be marked your 'products and services'. With these axis in place you can now create the columns and rows you require and position the growth strategies in the appropriate places.

3. By labeling your rows and columns you will put your growth strategies in the proper section. One row can be labeled 'New' and the other row 'Existing'. Then do the same for columns. Conventionally top row right hand quadrant is 'New' and bottom left is 'Existing'.

4. Now the labels have been created for your rows and columns, name each segment with a growth strategy;

Market Penetration
This section appears at the intersection of existing product and existing market and services.

Market Development
This is placed at the intersection of new market and existing products and services.

Product Development
This is positioned at the intersection of existing market and new products and services.

Diversification
Place this at the intersection of new markets and new products and services.
Using an Ansoff Matrix
Understanding the segments. A full understanding of what each of the four segments represents is key, knowing the advantages and risks that each one represents. This will enable properly considered choices to be made.

Evaluating options. This is all about thinking of how to implement each of the identified growth strategies for your business. Examples of this:

- Market penetration. To further strengthen your position within your current market you might look to introduce loyalty schemes, incentives or even acquire a competitive company.

- Market development. This might include branching into a more concerted online sales approach or actively promoting to new demographics.

- Product development. This might mean bringing new products on stream that are complimentary to your existing range, or tweaks to exiting products including packaging.

- Diversification. Partnering with another company would fit in here. Collaborating in this way can mean working with new products/services and reaching into new demographics and markets.

Risk assessment. Risks apply to each of the segments within the matrix. Market Penetration accounts for the least risk while Product Diversification will bring the most risk. It is important here to carefully consider and write down all the risks you think you might encounter in each of the segments. Write down the risks you believe you are likely to encounter and how you will combat them.

Which growth strategy will you go for? Choose your growth strategy. Once everything has been outlined and compartmentalized you will be in a much better position to make a decision about which growth strategy you should pursue.

At this point your Ansoff Matrix does not have to be deleted or condemned to the bin. It is quite usual for companies to return to the same Ansoff Matrix further down the line when they are looking at further growth activity.
An Ansoff Matrix Example
The Market penetration
An example of this might be a mobile phone company that introduces a 'family plan' which allows a family to jump on the same plan but it means the provider will sell more phones into that family.
Market development
RS Components - a company that supplied a wide range maintenance, repair and operations products built its business largely on business to business marketing and sales. On launching their website they found a significant online market of individual consumers rather than businesses. The website also allowed the opportunity to provide further offers and facilities. Argos on the other hand experienced the absolute opposite; very firmly a consumer based business of individual customers, the move online brought in significant business custom.

In the world of fashion and clothing, companies often expand from their national base by collaborating with manufacturers internationally, thereby enabling them to taking their existing range into other countries and wider markets.

Product development
We have seen many examples of this in the automobile industry. Brands that have been entirely associated with high end sedan or saloon luxury such as Bentley, or two door sports cars like Porsche have entered the SUV market to grab a share of the family car market.

Diversification
A strong example of diversification that many of us will have encountered is that of airlines which have added car rentals to their offers, teaming up with Hertz for example.

And in the world of computing, businesses have seen the opportunity for diversification by moving into hardware from software or software from hardware. This is diversification but within a familiar market and potentially to many existing customers.

Conclusion
By using an Ansoff Matrix a business can conveniently and clearly evaluate the relative merits of growth by using existing products/services and markets, as well as exploring new products and news markets, while outlining the risks attached.

The full use of the matrix clearly suits more established businesses, a new company will be better off concentrating on no more than two strategies which would be Market Penetration initially, then gradually moving to Market Development.

Academic and strategy expert Annamarie Hanlon PhD recommends a best practice tip of using an Ansoff Matrix at least once a year in strategic planning as an annual exercise in identifying new markets, new products and potential development opportunities.