The Strategy Diamond: what is it and how do you use it?

DecideAct -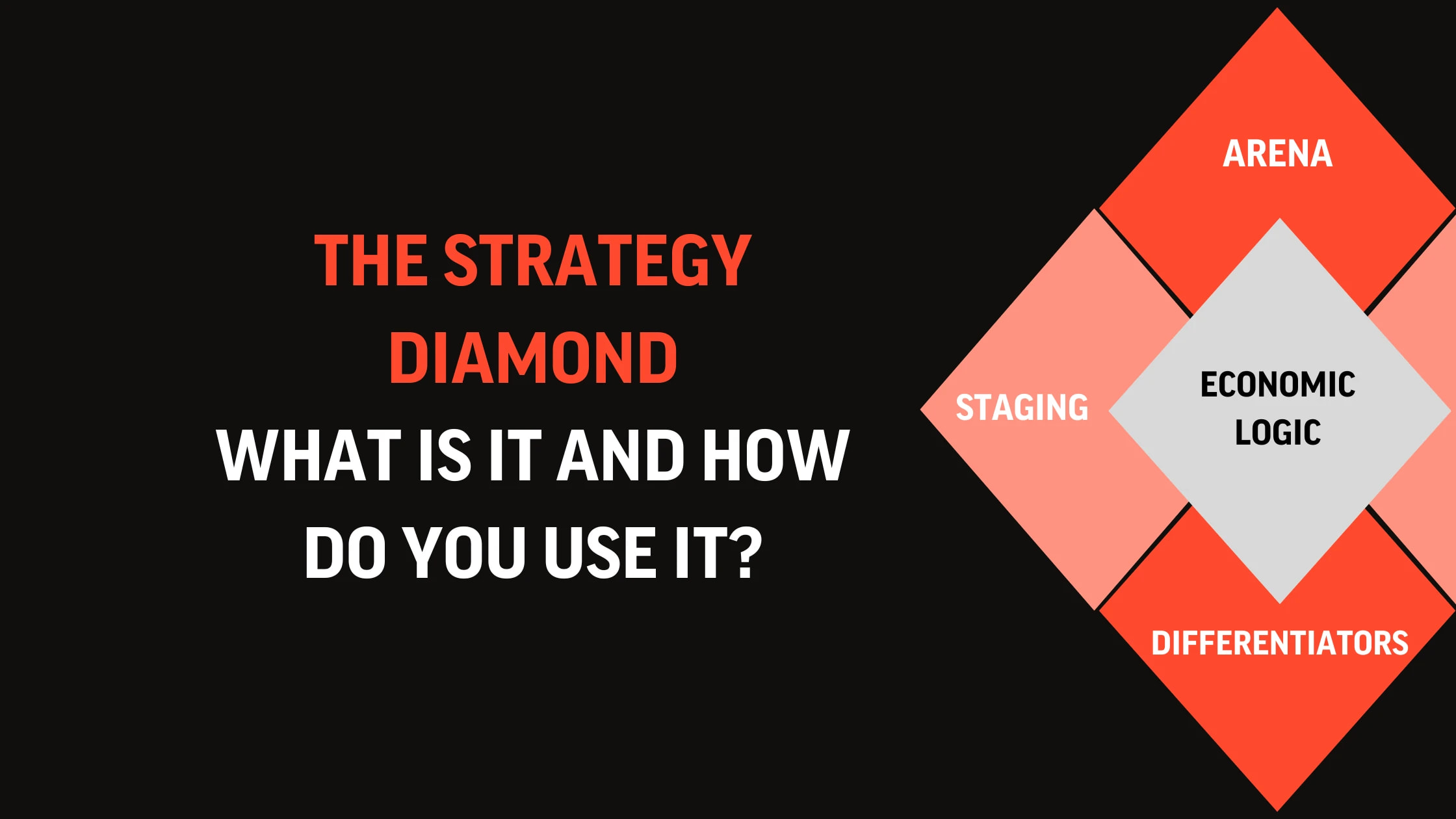 A company often uses different strategies depending on what they want to achieve. The strategy diamond can serve as a framework to ensure that you tie all the parts of one or many strategies to a coherent overall plan. In this article you will discover more about the strategy diamond model and, crucially, how to use it.
What is a Strategy Diamond?
A strategy diamond is a framework you can use to align and connect different aspects of a strategy. It contains five elements:
Arenas – where will you be active?
Vehicles – how will you successfully get to these arenas?
Differentiations – what makes your company unique and how can you use it to your advantage?
Staging – how quickly or slowly will you move towards your goals and in what sequences?
Economic logic – how will you tie all of these elements together to make a profit?
Donald Hambrick and James Fredrickson combined to developed the strategy diamond model. During their research on strategies they identified the five key areas mentioned above, which they believe concisely demonstrate how parts of an organization's strategy fit together in a coherent and manageable way. To better understand how you can use this model, let us dive a little deeper into each sector.

The 5 elements of the strategy diamond
When a strategy is planned and implemented, a manager usually faces various decisions they have to make. If there are a handful of strategies for separate departments, it can be tricky to keep the path clear and make conscious decisions that move your business forward. In these situations the strategy diamond is very effective, offering you an opportunity to think about your business plans from an overall perspective.
Below you will get an introduction to the five elements that, according to Hambrick and Fredrickson, are the essential parts of a strategy. You can also use the suggested questions as a guide when translating your strategy diamond into action.
Arenas
The arena sector covers questions about where you will be active. Depending on your business, products and services, you will naturally seek to be engaged in arenas where you can successfully reach your target audience.
When understanding arenas, ask yourself questions about both the people you want to reach and how you will get to them:
Will you be tied to a geographical area?
Will you operate in an already established arena, or create a new one?
Which channels will and can you use?
Which markets and specific market segments do you want to be active in?
Which technologies will you use?
Who is your target audience and where are they active themselves?
Do you bring unique value to the arenas you will be involved in?
Vehicles
This step is where you ask yourself how will you move to the desired arenas and strategy goals? The vehicle segment helps you identify what will take you to where you want to be.
When thinking about this, you can look into both external and internal opportunities and challenges. Then try to understand what is needed to move in the right direction.
Is it necessary to upgrade skill sets internally?
Do you need any licenses?
Is it beneficial to partner up?
Which internal and external processes do you have to align your strategy with?
What tools do you need? Equipment, creative tools and suchlike.
Differentiations
Differentiations refer to the things that make your company unique and help you stand out from your competitors. By identifying these elements you can use them to your advantage in many areas, such as marketing and developing current products or services.
Understanding this often requires you to look deeper into your competitors and the market landscape. See if you can pinpoint other successes as inspiration and weaknesses as a way to avoid pitfalls.
What sets your business apart from competitors active in the same industry?
How does your company stand out – brand recognition, pricing, quality, or other?
Does your company offer a new product? If so, how can you maintain your position as an industry leader?
What are your USPs and how can you use them?
What does the competitive landscape look like, and what are your advantages?
Staging
The phrase "timing is everything" might help you understand this part of the strategy diamond. Strategy is not only about how and what, but also about when. Staging helps you map out a pace and timing that fit your company and the market.
It's also an excellent way to keep an agile strategy plan. Today's leaders often witness the failure of 5 to 10 year strategy plans due to a fast-changing business environment. Dividing your plan into sequences can help you detect hindrances faster and choose a proactive approach.
In what order do you need things to happen to be able to follow your strategies successfully?
What external timeframes do you depend on – suppliers, processes, etc.?
Do you have to meet any deadlines?
Are there any seasonal happenings to take into consideration?
Economic logic
As you can see in the illustration above, economic logic is placed in the middle between all the other facets, this is because it should function as a central anchor within your strategy diamond. As you may already know, your business depends on a well thought out plan, not only to cover all the company's costs, but also to gain profit. This factor ties it all together and helps you cover the essential aspect of making your business and strategies profitable.
Depending on your business and industry, you can take different approaches towards economic logic. For example, if you have a high-quality product that isn't matched on the market but is desired by your target audience, you could have a higher price. However, a high price only makes sense as long as it matches your offer and the demands of the market.
What pricing model do you use?
How do we ensure that you make a profit?
What budgets do we have to follow?
What are your incomes and expenses?
How can you use the strategy diamond model within your business?
Strategies can be more or less complex and serve many different purposes. As mentioned above, the strategy diamond helps you understand how the different parts of your strategy fit together.
It is applicable to both smaller and larger scale strategies in various markets. Therefore you can use it for single, smaller strategies to make sure the execution moves as smoothly as possible towards your target goals. Or you can use it as an overall structure to ensure that your company works coherently across departments and that your decisions favor the company as a whole.
With an overview and a framework that helps you to think about your strategy while keeping every aspect of your business in mind, you'll increase your chances of successfully executing the strategy you've carefully planned for.
Examples of a strategy diamond implementation
One example of a business with a well-integrated strategy diamond whose five elements reinforce each other is the Swedish furniture retailer IKEA. Let's take a look at how their strategy connects to the facets of the strategy diamond.
Arenas and Vehicles
Today, IKEA has stores worldwide, targeting countries where cultural and socioeconomic structures support their concept – their arenas.
Regardless of the country you are in, you'll immediately notice the characteristic concept as soon as you enter one of IKEA's warehouses. The stores are structured the same way, and the products are only available in their own physical store or on their e-commerce sites – their vehicles.
Differentiations
There are many differences between IKEA and other retail brands. For example, the shopping experience is inspirational and immersive, and salespeople don't approach you unless you ask them to.
Many of their products are available in the store which helps with instant fulfillment. If you would like a kitchen table and chairs, you don't have to wait for delivery, which might take anywhere between 2–10 weeks from their competitors. Instead, you simply pick it up on your way out.
Another significant difference is the pricing. IKEA offers products aligned with their customers' expectations at a generally lower price than their competitors. One reason they can do this is because their customers put together most of their furniture themselves, lowering production and logistics costs for IKEA.
Staging
As for staging, they have a solid plan for approaching new countries – one or a few warehouses at a time. Usually IKEA start by opening one store, which is promoted with advertisements and PR to ensure people are aware of the new opening and understand their concept. Then they slowly but continuously open a few other stores within the same country or city.
Economic logic
Even though the products are different in every country, the concept is unique. Therefore, they can standardize both expansion and production enough to make a great profit – creating an economic logic that ties all the other aspects together.
This is just a brief overview of the well-planned strategy of IKEA. However, it is an excellent example of how you can deep-dive into each aspect to find every field's advantages, and then connect them all to make them work in harmony on an overall company level.
Use the strategy diamond together with other frameworks
The strategy diamond has many advantages. However, it isn't the most effective way to hold much information, therefore you will likely need to use other frameworks as a complement to this model.
A brand strategy for example, is a good way of exploring the field of differentiation. This framework helps you find a clear and unique path for your brand and define what makes it stand out in the market. Or, if you want to explore arenas and vehicles, you can use the strategy diamond together with your go-to marketing strategy. Ultimately, it's all about finding ways to make your business as successful as possible.
If you're looking for more inspiration for how to develop strategies that will help your company thrive, reach out to one of our experts.