5 Steps to Success with your Team Strategy

Mark Holst-Mikkelsen -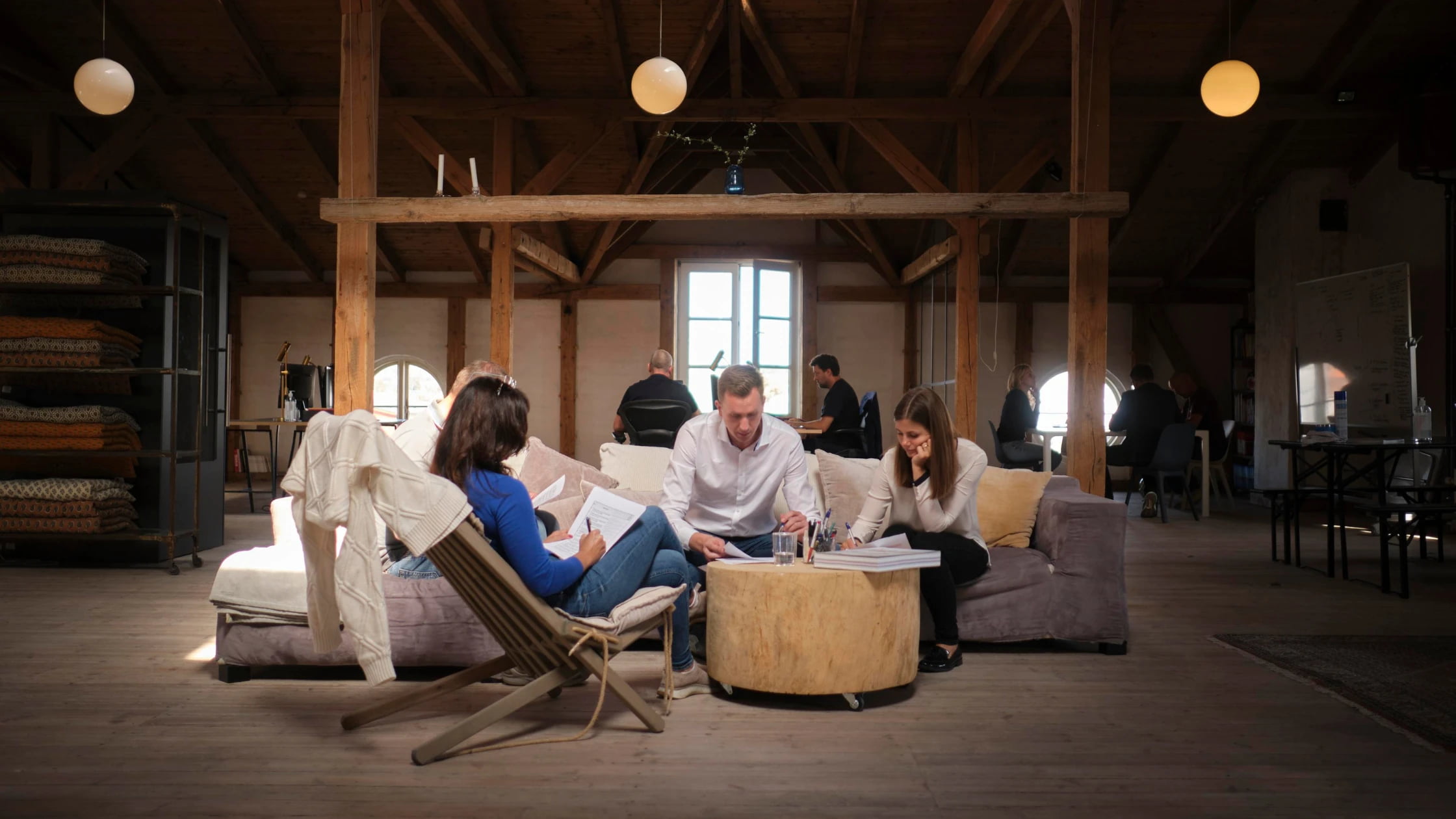 Working together as a team is one of the most important catalysts for success for any organization. The foundations for good teamwork are trust, commitment, accountability, the right level of conflict, and a strong focus on results. However, if a team is also to succeed with their strategy, it is important to follow a handful of recommendations that get unfolded in this blog.
Great teamwork should never be taken for granted. It takes time, energy, and a wholehearted desire to achieve it. Simultaneously, when developing great team dynamics, a team often needs to not only define their own strategy, but also make sure that they succeed with the execution of that team strategy.
In this blog, we want to share five recommendations for how to become successful with your team's strategy: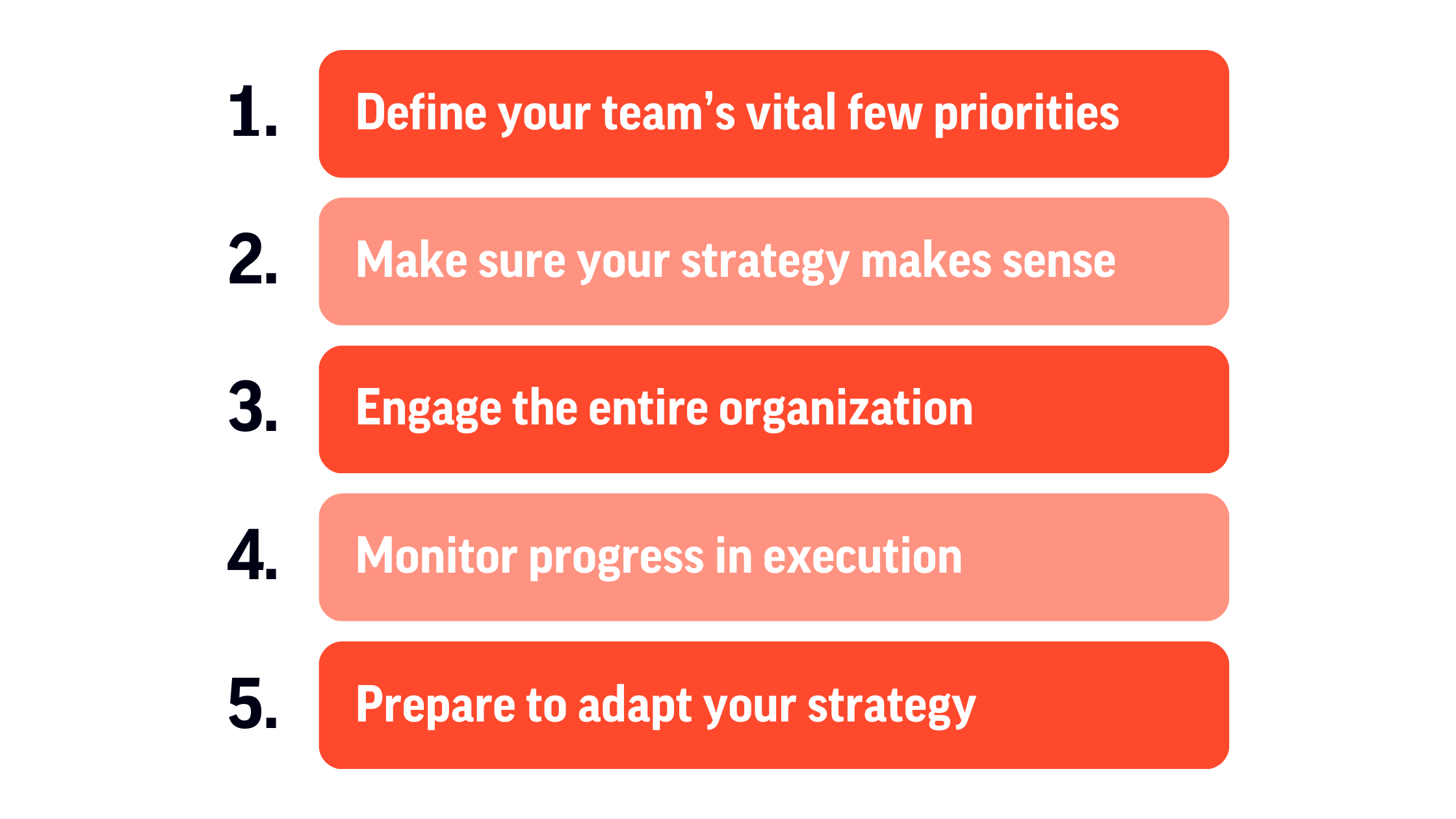 The five recommendations for you team strategy are unfolded below.
1. Define your vital few priorities
Have you ever tried having more than two or three goals? Experience shows that when a team starts to focus on more than two or three goals, the less likely it becomes they achieve those goals.
As an example of how to work with goals the right way, take the marketing team strategy at Slack, a digital platform that connects people, teams, and systems. The marketing team had three Key Performance Indicators:
Increase general awareness of the company

Accelerate customer growth

Mature a sales pipeline



The Head of Marketing at Slack, Kelly Watkins, kept a close eye on these KPIs daily and dived into them more deeply on a weekly basis. She learned that these shared KPIs enabled her to not only manage her marketing organization but also gave employees the freedom and agility to make rapid-fire judgments.
"If leaders can establish very specific and concrete KPIs that people can orient their work around, the team or the individual can go faster and make the right decisions in the moment, aligned with the outcomes that the business wants to see." —Kelly Watkins
So, having some vital few priorities can enable your team to make important decisions quickly in line with your overall team strategy.
2. Make sense of your team strategy
When your strategy makes sense to your team and other contributors, the execution is much more likely to be successful. A key component of making sense of a strategy is to develop a strong and compelling storyline.
An example of this is Inpay, a cross-border payment solutions provider making the flow of global payments easier, more cost-effective, and faster. According to Financial Times, their journey to become the fastest-growing company in Denmark began in 2008, when a deadly cyclone hit Myanmar, causing its worst natural disaster on record.
As the death toll grew, a Danish entrepreneur went online to donate money to help the thousands of orphaned children. When Jacob Tackmann Thomsen realized his credit card donation would lose 5% to fees and take days to arrive, he searched for a better way to send money abroad. Spurred on by this frustration, Jacob set to work and founded Inpay with a clear vision: cross-border payments that should be as cheap, safe, fast, and easy as local bank transfers.
Jacob then started with a very small team, but with dedication and discipline in their strategy execution, the team has rapidly grown to more than 200 employees. During this growth journey, all team members have had a very clear understanding of how Inpay's strategy adds value to their customers, and they have been very focused on continuously building new strategic initiatives based on previous successes. Combined with agile leadership believing in the value of two-way communication and dialogues, they have maintained momentum and continued to strive for new, ambitious goals.
3. Engage the entire organization
No matter how strong and capable your team is, you often need as many ambassadors and contributors as possible. Therefore, it is important to engage the entire organization in transforming your priorities into the impact your team wants to make. Unfortunately, getting your team to successfully collaborate cross-functionally is much easier said than done. In fact, 75% of all cross-functional teams are dysfunctional (Harvard Business Review) and making cross-functional collaboration about your team's strategic priorities therefore needs to be a wholehearted effort actively supported by leadership at all levels of the organization.
An example of a company that has succeeded in their team strategy engagement is G&O Maritime Group, a global leader in the maritime and offshore industry providing a wide range of unique products. Despite having expanded through the acquisition of three competitors, they have insisted on creating transparency, creating cross-functional alignment, and the sharing of resources and expertise across the entire organization. This has enabled G&O Maritime to reach ambitious growth targets by involving everyone in a very disciplined and structured way.
4. Monitor progress in execution
Strategy execution is about accelerating your team's speed of execution while making sure you do the right things that move your team toward the desired impact. Doing that requires a continuous, real-time overview of:
To what extent are you executing on what you have decided?

How well do you perform on your Key Performance Indicators?

Are there any critical issues you need to take care of?

Does your culture support your strategy execution?
Having access to a real-time overview of the strategy execution process can enable your team members to be ready to act on new developments at any time, in line with your organization's strategic objectives.
An example is the leadership team at Adidas America. The leadership team defined a shared set of KPIs on behalf of the brand horizontally, but the execution meant very different things to each unit working with sales in different ways. For example, the wholesale business had to execute on very different initiatives than the direct consumer business or the e-commerce team. They also had different sub-KPIs under the horizontal ones for Adidas America, and each team faced different issues of critical importance. While allowing different leadership styles in each subunit, they developed different subcultures that were all supporting strategy execution in their own, thereby delivering the growth defined by the leadership team.
5. Prepare to adapt your strategy
As soon as your team strategy is created, you need to prepare to adapt it. In a world that is ever-changing, the assumptions and prerequisites behind your strategy will sooner or later change, resulting in a need for strategy adaptation. Therefore, you need to be ready to pivot your strategy, when new knowledge and data demonstrate that it is the right thing to do.
An example of an effective business pivot is Chipotle Mexican Grill, a fast-casual taco & burrito restaurant. Like many other strategic pivots, it was primarily driven by a response to a crisis. The company was in 2015 and 2016 responsible for two coli bacteria outbreaks that resulted in around 55 people being poisoned. This caused store closures, a drop in sales by approximately 20%, and a plummeting share price.
The events required Chipotle to pivot its overall strategy, become more focused on improving food safety standards, and regain and maintain consumer confidence. Chipotle quickly prioritized adapting new food storage and preparation standards and prioritizing hygiene through strict employee protocols, as well as the investment and installation of brand-new equipment.
However, this meant that when the Covid-19 pandemic hit, Chipotle was already set up for circumstances that required an elevated level of hygiene. Chipotle only had to implement two new protocols into their routines during Covid-19: social distancing and wearing masks.

Chipotle continued to adapt their strategy to a new reality through new measures such as contactless delivery, drive-thru for mobile orders, and a digital-only menu. These small adaptations to their strategy further enhanced Chipotle's market value and allowed them to continue pursuing sustainable growth and profitability.
Despite – or triggered by – the Covid-19 pandemic, Chipotle increased total revenue by 7.1% to $6USD billion from 2019 to 2020.
What's next?
As we approach the new year, the success of many organizations will likely only be further defined by their ability to work together as a team toward a common ambition using the most compelling, data-driven, and adaptive strategies. These modernized strategies will also be accommodated and supported by the most up-to-date technology that enables an organization to capitalize and unleash its full potential.

Organizations that manage to integrate and harness their abilities as a unified team with the power of technology will likely see continued success into the future. See for yourself how technology will help your team strategy to succeed.