Danish Tech Company Based on Bornholm Listed on Nasdaq First North

DecideAct -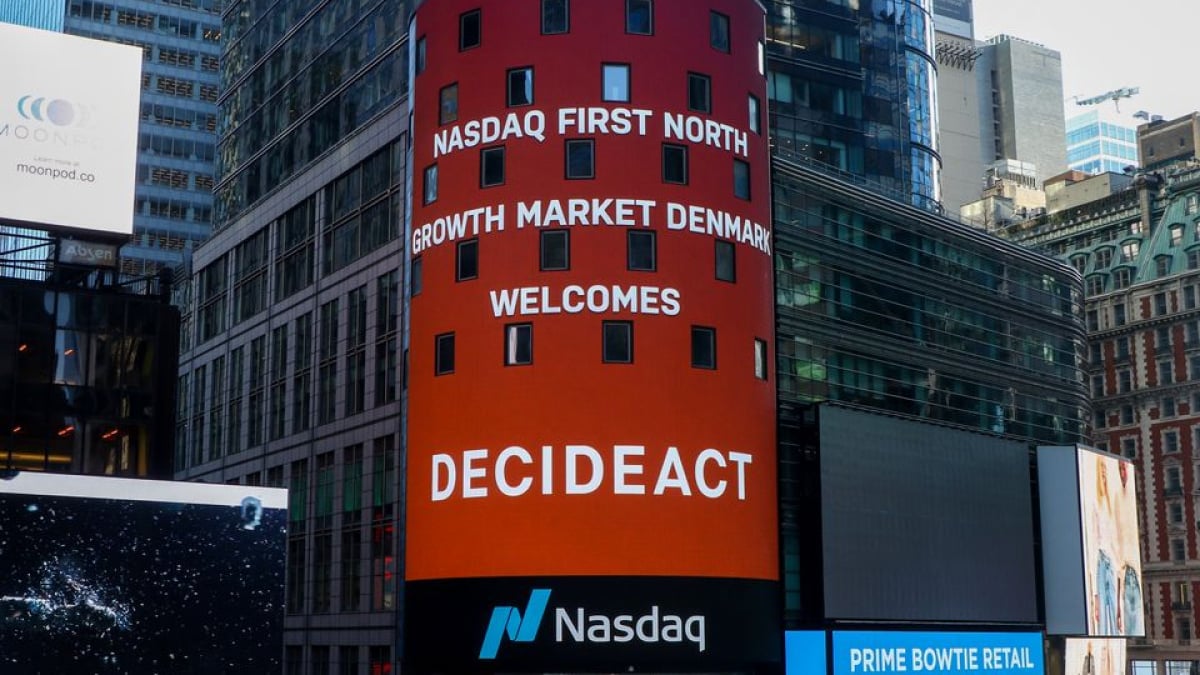 After a very successful public offer period where the share offer from DecideAct resulted in a total subscription of 604%, the tech company with headquarters in Nexø could ring the bell on the stock exchange on Wednesday 16 December 2020 at 9:00—as the first company from the small island of Bornholm to do so. Due to Corona restrictions, it happened at a virtual event at Nasdaq First North Growth Market Denmark.
The tech company DecideAct has developed a groundbreaking cloud solution that helps companies implement their strategies. To realize its own growth strategy, the software company has gone public. Today, 16 December 2020 at 9:00, the DecideAct share was traded on Nasdaq First North Growth Market Denmark.
This became a reality after a very successful listing where the offered shares were subscribed for more than six times, with almost 3,000 new shareholders. The offering period ran from 26 November to 9 December 2020. The total share subscription in the listing was DKK 71.8 million from a total of 2,956 shareholders, corresponding to a total subscription of 604% including all shares offered for open public subscription, and 388% in relation to the total offering of DKK 18.5 million.
On the first trading day, with a total of 3,006 shareholders and over 40% of the shares in free float, the DecideAct share opened nicely with a rise of 35%, which bodes well for future trading in the share. The net proceeds from the offering will be invested in the company's sales, marketing and product development activities as part of a growth strategy that aims to make the Nexø company the leading global brand within the new business category, Strategy Execution Management.
CEO and co-founder of DecideAct, Flemming Videriksen, is proud of the interest and trust that the new shareholders have shown the young tech company. "It was a special moment for us when the bell rang on the stock exchange, and we will do everything to live up to the shareholders' trust," said Videriksen. DecideAct has been informed that they are the first Bornholm company to be listed on the stock exchange—making the day a milestone, not only for DecideAct, but also for the island Bornholm's company history.
An international team is led from the head office in Nexø, which has worked together at a distance for several years—just as many companies are now beginning to due because of Corona. "We were born global, and geography is no longer a crucial parameter for how far a tech company can go. We have managed to attract the best employees, and whether they are located on Bornholm or elsewhere in the world is not crucial. But it is absolutely crucial that they have unique competencies and personalities—then we can conquer a large part of the global market," says Videriksen.
The headquarters, located in a former warehouse at the port of Nexø, now has three full-time and two-part time connected employees. Other team members are in various locations such as Toronto, Reykjavik, London, Berlin, Malaga, and Copenhagen. To create an efficient working organization, DecideAct maintains a tight structure with weekly virtual team meetings and use of the latest apps for internal communication. In addition, they have taken their own medicine and used their own software solution for monitoring and follow-up on strategic objectives.
Flemming Videriksen thanks the team around the IPO for a fantastic job. "This applies not least to our financial advisor Gemstone Capital and our certified advisor Keswick Global AG, who have been with us all the way from the initial explorations until we reached the goal of a very successful listing. With the proceeds from the offering, we will continue our growth journey with increased strength, and we will put all our energy into achieving our goal of becoming a real market leader in the new and very exciting category Strategy Execution Management," says Videriksen.
Carsten Borring, listing manager at Nasdaq Copenhagen, , says: "DecideAct is among the impressive list of smaller Danish companies that have chosen to go public in 2020, and which testify to the great interest in stock exchange listings among investors and entrepreneurs in Denmark. It is gratifying that investors will help to support the Danish technology companies and get growth started, ensure development and innovation, and form a breeding ground for the jobs of the future." DecideAct will be traded under the ticker ACT and with permanent ISIN: DK0061414471.