Strategy Trends for 2023

Bjarni S. Jonsson -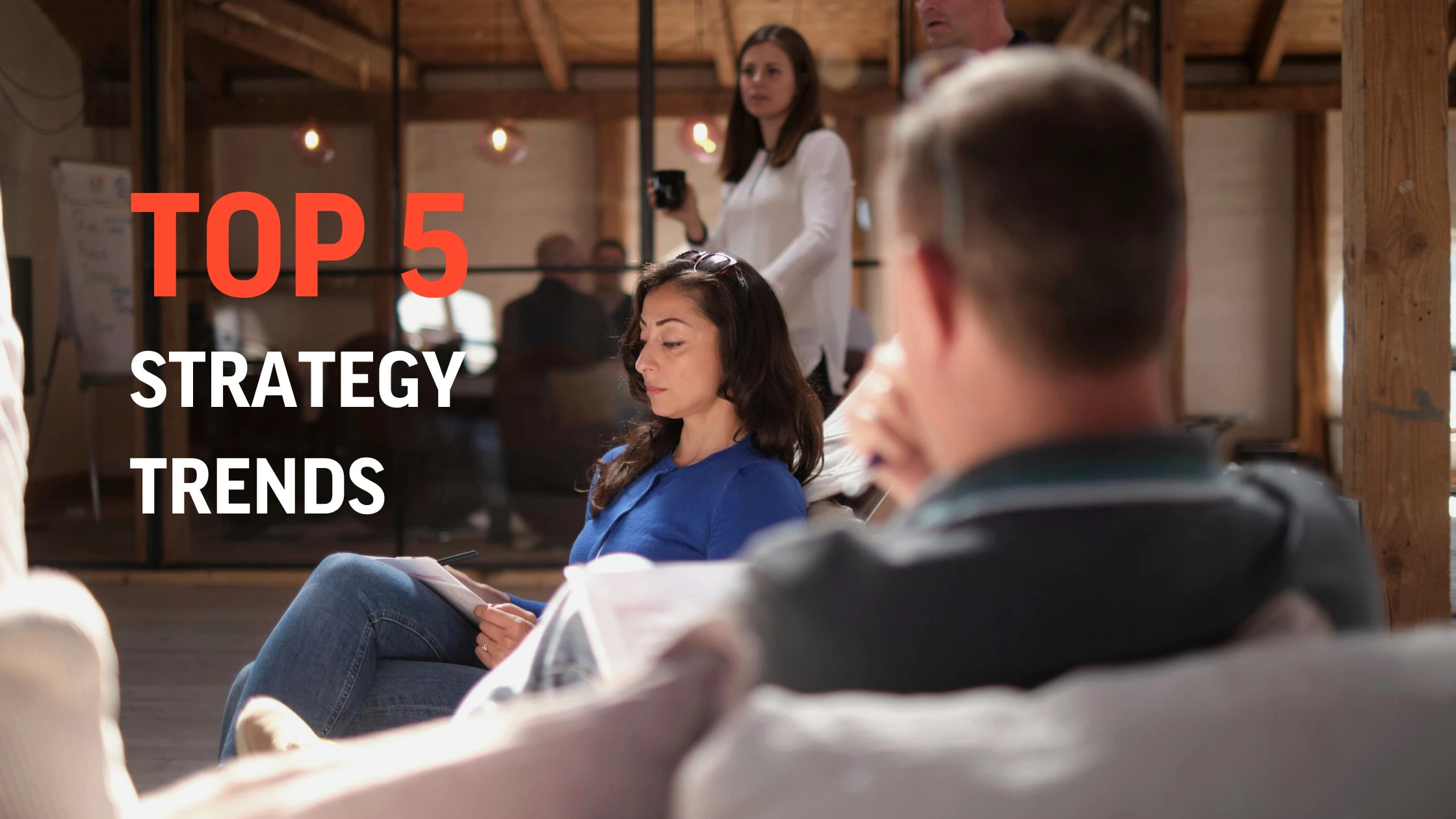 Major digital strategy trends are emerging in the way strategy is formulated, executed, and governed. In 2023 and beyond, traditional ways of working with strategy will give way to a totally different set of processes, measurements, reporting, and governance. The old "spreadsheets and status meetings" method is already obsolete. This will require changing habits and replacing them with new ways of tracking the progress of business strategies.
Here are just a few reasons why:
Major business trends in the business environment are evident. Covid, the war in Ukraine with its widespread implications, global warming resulting in floods and droughts, and other issues are affecting markets worldwide.

Governmental ESG requirements for organizations are multiplying every minute. In Europe, new reporting requirements are significantly changing organizational reporting and governance structure.

New generations of employees will bring new perspectives and requirements to the workplace. This rich mix of talent will require ongoing adjustments to organizational culture. In the Digital Era, freedom and inclusiveness will have to be taken into account in the cooperative processes within organisations.
The list goes on and on as the business environment is becoming more Volatile, Uncertain, Complex and Ambigous requiring fast decisions, effective execution and tracking of results for continuous and efficient review and adaptation.
Here are the Strategy Trends for 2023
TREND #1 - Engagement and Accountability
Strategy execution is usually a top-down process with limited employee participation. It's project-based, often referred to as Project Portfolio Management (PPM) and governed by Project Management Office (PMO). An important drawback to tracking individual projects exclusively is that it doesn't usually address critical performance goals. Top-down and bottom-up strategy execution gives your organization the agility needed to thrive in this VUCA (Volatile, Uncertain, Complex, and Ambiguous) environment. Offering more responsibility, and accountability to team members in the trenches will release your best resources to function at their peak for the organization.
TREND #2 - Transparency
One cannot apply engagement and accountability without securing full transparency of progress and performance. To reach a common goal, everyone needs the same map (strategy), signposts (Key Performance Indicators), and a schedule to follow. Leaders need to engage in frequent conversations with accountable employees in an efficient manner based on real time verifiable information. A state-of-the-art Strategy Execution Management platform offers real-time data to keep everyone on the same page.
TREND #3 - Strategy on the go
Being predictable in an unpredictable environment is the real challenge facing leaders today. Engagement and transparency are foundational to consistency, as are resilience and a positive attitude. The road to long-term goals zig-zags over rocky terrain, and the leader's role is to help the team regain their balance—these days, almost constantly. A strong, cohesive team will begin to rebalance itself automatically.
TREND #4 - Integrative Governance
The last, but not least, new strategy trend facing organizations is increasing official requirements for integrative governance. In the Integrated Governance model, sustainability issues are integrated to both allow value creation for the organization and long-term benefits for all stakeholders. This will call for integrative thinking as well as reporting.
TREND #5 - Organizational Maturity Counts
There are five signs of a mature organization:
Engages all internal stakeholders around a common goal and approach

Integrates strategic drivers of value creation into a single, sustainable strategy

Fosters interdepartmental collaboration

Aligns financial and sustainability data for a holistic view of performance

Devotes time and attention to transforming intangible potential into tangible benefits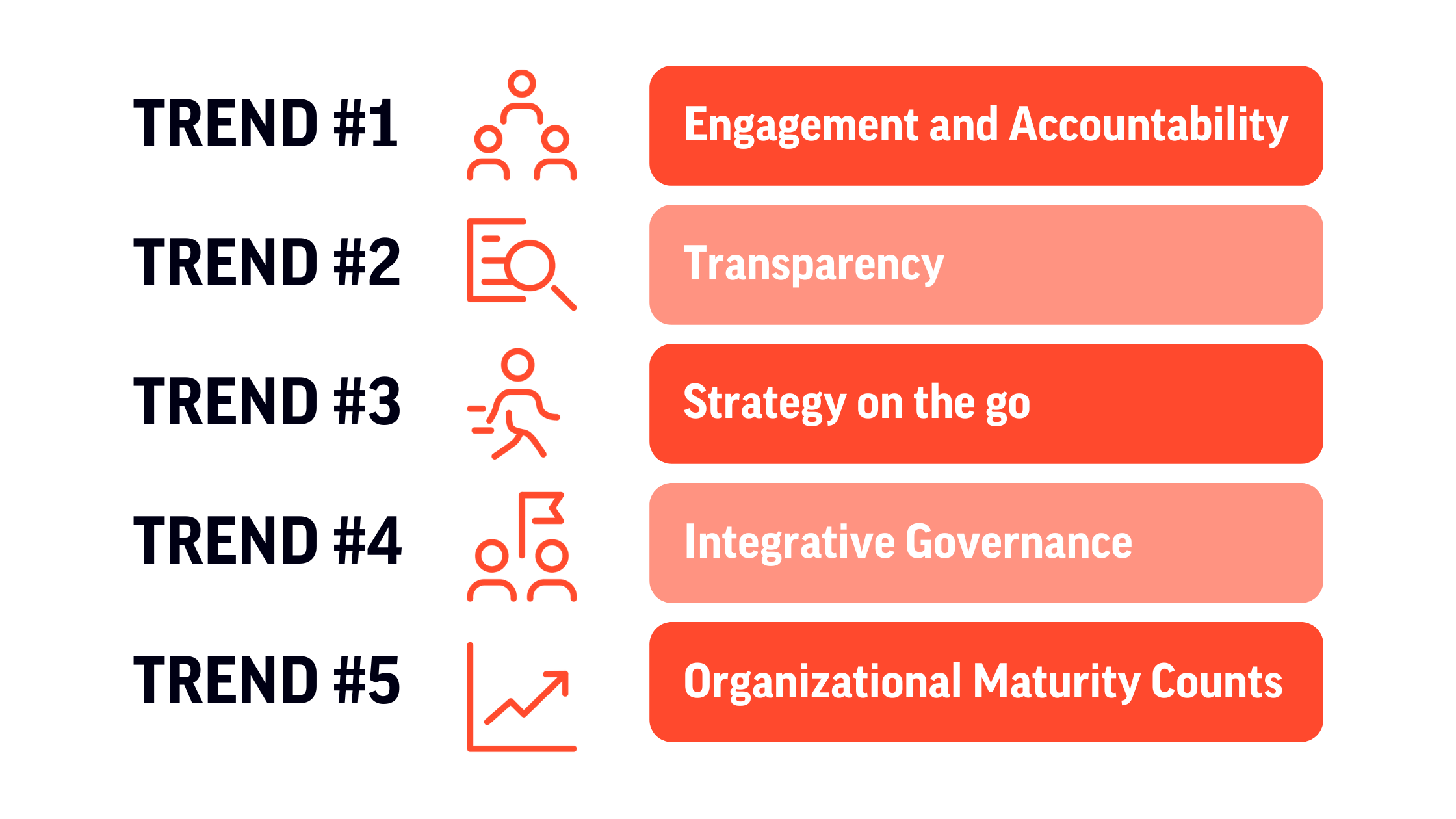 All of these business trends can be converted to strategies. They can be envisioned, broken down into action steps, carefully monitored, and nurtured to completion. The technology is already here. Although the VUCA landscape of 2023 and beyond poses challenges we may not have seen before, we can prepare for them. The careful focus required to meet our goals might even help us exceed them.
Be on top of the Strategy Trends for 2023 with the DecideAct Strategy Execution Management Solution. It is not too late to request for a demo and start 2023 transparent to all members of the organization and track your progress in a seamless way.