Strategy Execution and Strategic Governance in a Digital World

Flemming Videriksen -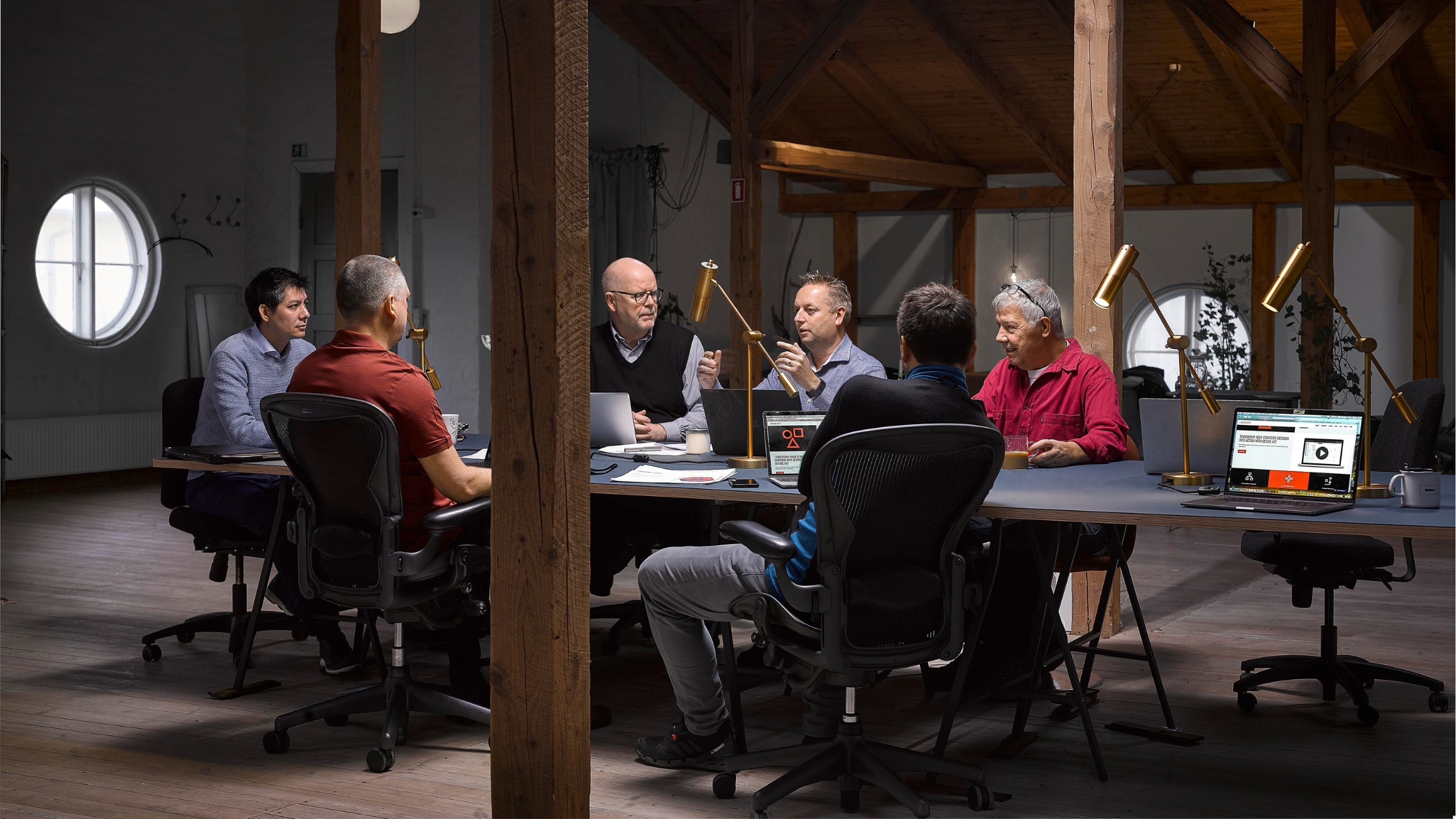 How are today's leaders approaching strategy execution and strategic governance? And how can technology change and improve how we plan and execute our goals? In this blog, I will look at how to achieve important long-term goals by prioritizing in a reality where responsiveness and adaptability are crucial.
The future is likely to be increasingly volatile and uncertain. Whether it will be for the better or worse is up to every one of us. Responsiveness and adaptability are crucial to making the most of evolving circumstances. Therefore, the Executive Team must have the right mindset to navigate through tough times, and Strategy Execution Management (SEM) is the key to getting your business strategy in place and keeping it on track. With a strong understanding of Strategy Execution Management and a mission-critical mindset, you can be prepared to successfully execute strategy and navigate through the territory ahead.
In strategy execution today, technology is used to monitor developments and align the whole organization around essential strategic priorities. The technological research and consulting firm Gartner points out that there is an emerging market for enterprise-wide digital strategy execution in response to the increasing need for speed and agility.
Strategic governance and monitoring: Fail fast and reshape

your

plans
Eighty-nine percent of organizations do not have a full-fledged strategic governance and monitoring process in place. Strategy is not taken seriously enough because tracking methods, if used at all, are ineffective. Imagine if you had the same approach to your company's finances. No clear data, no effective way to track your financial status — would that be considered serious leadership? And how long would your organization last without effective oversight of its finances?
Advanced technology can now handle extremely complicated data sets and integrate them with the technology infrastructure of your business. These tools enable you to track strategy execution live. By clicking a button, you get a total overview of strategic performance in any part of your organization. Whether you want to deploy a systematic follow-up or do it the old way, it is essential that you keep trying, fail fast if you have to, then reshape your plans. But to succeed, you need a structured approach: a very tangible plan, and instant and transparent follow-up.
Take strategic governance seriously
First, you need a clear target: What does success look like? What's the desired state for your organization? Be specific. Ask for your teams' input to create buy-in, which is vital to long-term success. Then define the steps (which must be feasible) to achieve the goal. Pick a strategic framework, assess your organization's ability to implement the initiatives (add resources if necessary), and establish a strategic hierarchy.
When you have established a clear line of sight and your team is eager to begin, you can empower each team member to act upon mutual goals, involve them in the dialogue, and help them understand your strategy and how they can contribute to its success. All this is easier when you deploy a strategic infrastructure to drive governance and accountability and establish the same rigor in governing your strategy as you do for your finances. Transparency, clear accountability, frequent reviews, and swift adjustments will drive strategy execution and enable you to promptly resolve any deviations from the course.
A logical hierarchy helps you plan logically and apply strategic governance effectively
Research shows that execution cannot succeed unless the strategy itself is designed to be executable. Building your strategy on a logical hierarchy, similar to a chart of accounts for your finances, enables you to plan logically and monitor results. Building a hierarchy (a chart of strategic elements) also connects the strategy to your organizational hierarchy. By being attached to strategic initiatives, any unit or employee can see their role in the strategy's success. It also helps the Executive Team and the Board monitor progress and apply effective strategic governance exactly where it's needed.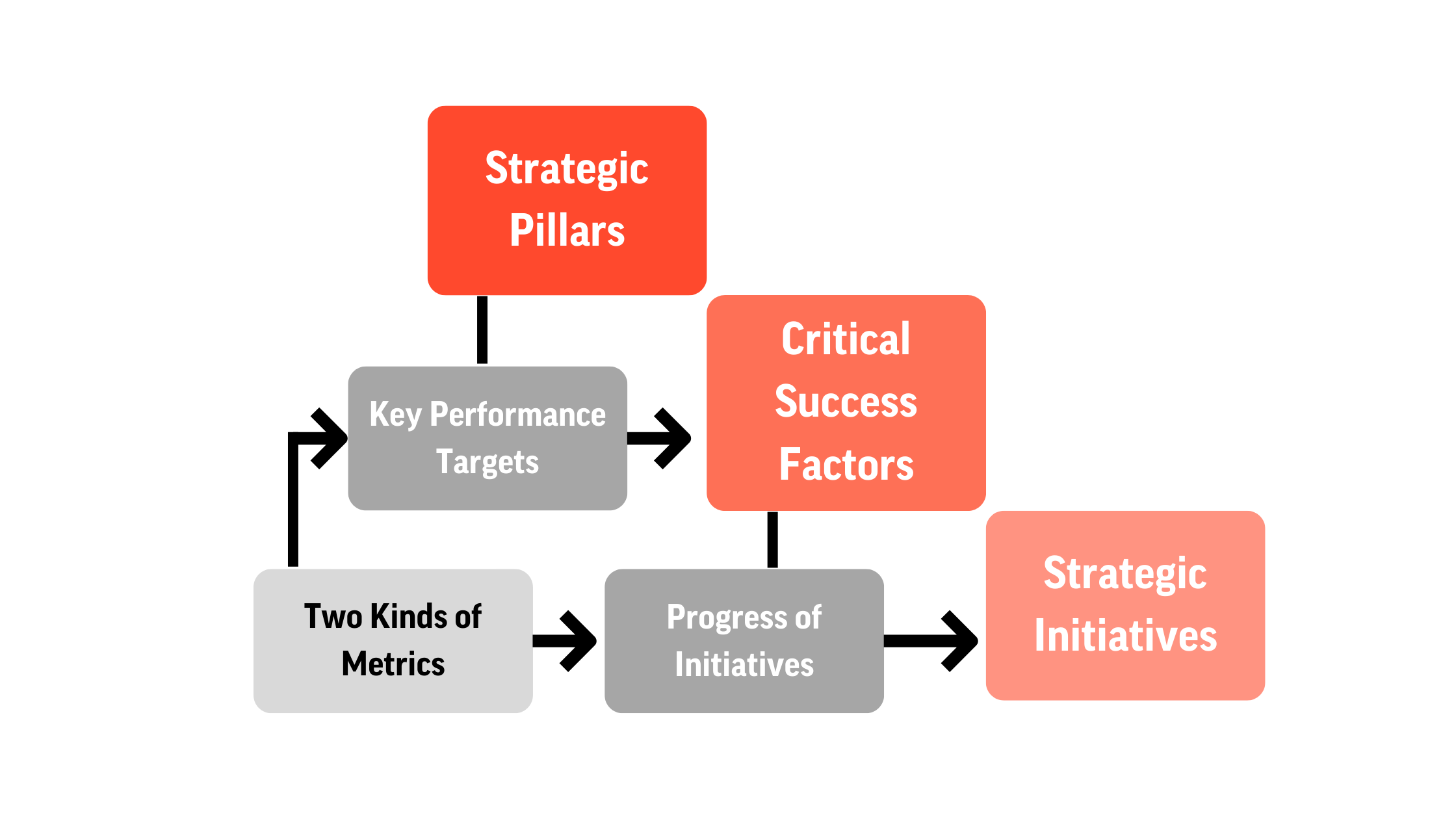 Framing your strategy in a logical hierarchy helps you systematically manage it by regularly monitoring, reviewing, and adapting your plan of action. Without this, you're unable to cascade the strategy throughout the organization, leaving your employees unable to relate to the strategy or contribute to it in any meaningful way. Keep in mind that under normal circumstances, $3 million USD are wasted every minute on strategies that fail or never get implemented. This equals 1.6 trillion USD every year — or the gross national product of all the Nordic countries combined.
Strategic governance: Increase speed by answering essential questions
What gets measured gets done! And when you use standard measurement terminology that's both transparent and consistent, you have a cornerstone of successful Strategy Execution Management. When you have a workable, documented strategy in place, it's also less risky to think outside the box. You can then choose to make a radical (but thoughtfully considered) upgrade to your plans. Following up on clear priorities through regular reviews ensures the strategy execution stays on track — and that essential daily tasks don't impede your strategy's progress.
Strategy in a fast-changing digital world needs to happen fast—but always within the organization's business model. Tracking how to transform, in what sequence, and at what time is essential. SEM increases speed by answering the following in real-time: What has the organization done in the last 30, 60, or 90 days to execute the strategy? Are the right resources in place? Are team members staying current on their contributions to strategic objectives? What are the strategic successes at any given time? Are the assumptions behind the strategy still relevant? If not, how do we update them and still maintain speed?
Strategic initiatives are not daily tasks
Often there is confusion between strategic initiatives and operational/tactical initiatives. We tend to focus on urgent daily tasks, which means longer-term strategic initiatives are neglected. Therefore it's important to clarify that strategic initiatives are not daily tasks. Strategic initiatives typically involve pivoting business models, new business opportunities, improved productivity, fewer errors, improving quality, increasing customer satisfaction, and internal matters such as the organization's culture. A strategic initiative must be absolutely clear about its end goal, milestones, start and end dates, who is responsible for each piece, and expected return on investment.
The fact is that 95% of employees do not understand their company's strategy (based on a survey conducted by Brightline Initiative). This results in a lack of engagement, which significantly lowers the chance of executing anything substantive. Combined with the fact that most organizations focus on the urgent (putting out fires) rather than the important (preventing fires), it's clear why strategic failure is so common.
The good news is that there is a way out of the swamp. Strategic governance and Strategy Execution Management in a digital world requires a whole system change—aligning employees to act on and resolve strategic issues really should be non-negotiable. Manage your strategy with the same care you give to managing your finances. Make it a top priority to build trust and engagement throughout the organization.
Keep up with the digital times
Digital tools that give you access to any element of strategy execution at any time are only half the answer. To get the most out of the new approach to strategic governance and Strategy Execution Management, you'll need more than your team's cooperation — you'll need their enthusiastic support. DecideAct's customized user dashboard shows each player how they contribute to the strategy's success.
Some of your competitors will continue in survival mode, simply putting out fires day after day with no end in sight. But a fully digitalized, practical business strategy is the best survival tool there is. DecideAct's Strategy Execution Management platform not only helps you survive a global crisis; it helps you make the most of every opportunity that crisis offers.